Getting to Know Your Target Reader.
The KEY to growing a successful on line business (with or without Pinterest) is KNOWING who you are talking to!
One of the biggest questions I get asked is
"Why aren't I getting the traffic I want from Pinterest?"
There are many possible reason for your frustrations.
One of the biggest reasons I see is that people are not talking to their TARGET READER, (aka "ideal customer" or "avatar"). This is the person who you want to attract to your site with Pinterest.
In fact, it doesn't matter whether you're using Pinterest or not, if you want a thriving on line business (or even physical business) you need to know WHO you are selling to (or providing content for.)
If you are talking to the wrong person, the right person will just ignore your pins.
You need to get into their boots and see your business (or pins) from their eyes.
Getting to Know Your Target Reader Hand Out
To sign up for the handout, just click the image and add your email. If you're already a member of the Easy Pinterest Traffic Club, it should just be sent straight away. If you're not yet a member, hooray and welcome. You will need to confirm you want to join. You will be sent an "opt in email". Just click the link to say you want to be in the Club and get the great resources!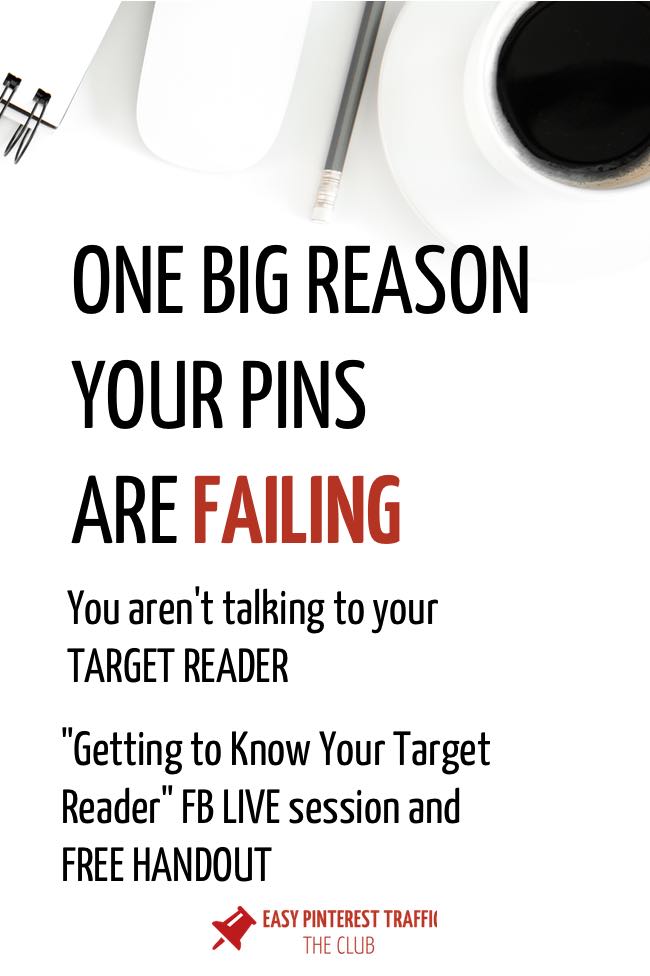 Why aren't you getting the traffic you want from Pinterest?
Get the cheat sheet and create a plan of action!
No spam and you can unsubscribe whenever you like.